Jeffrey's Job – Video and Pictures
Jeff started to work at The Torah School of Greater Washington in the 2018-2019 school year and is returning for 2019-2020. He works  9 – 12 hours a week with the goal of increasing his hours to 15 – 18 hours a week. His primary responsibilities are to teach music to all grades in the elementary school. During the year, Jeff also instructs students about disability awareness. Jeff is always open to any questions students have about how he deals with his blindness and diabetes. He is an excellent role model for the students on how a blind person can lead a positive and productive life. Jeff utilizes his talents in music, singing and playing guitar to provide excellent and meaningful music lessons to the students of the Torah School of Greater Washington. He teaches songs in both English and Hebrew.
---
UPDATE on Jeff's Work Progress and Related Activities:
---
Passover 2019 Music Class: 4th Grade
(Ma Nishtana – The Four Questions)
(Avadim Hayinu – We Were Slaves in Egypt)
(Shehecheyanu Prayer)
(Lo Alecha Hamlacha Ligmor Song)
---
Hanukkah 2018 Music Class: 1st Grade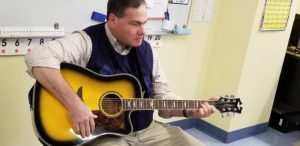 ---
Kindergarten Class: TSGW December 26, 2018
The following are 6 videos taken in one kindergarten class to give you a sense of how Jeff runs the class and how the students participate. Enjoy! You may sing along with Jeff and the students if you like 🙂
(Puff the Magic Dragon)
(Sing, Sing A Song)
(Buzz, Buzz, Buzz)
(David Melech Yisrael)
(Hinai Matov Umanayim)
(Sim Shalom)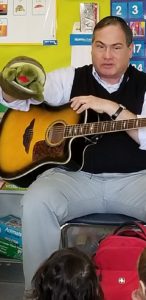 Jeff talking to the kindergarten class using his turtle puppet. They talk and sing a little just with the turtle. The kindergarten kids really love it.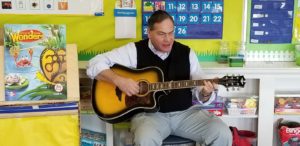 ---
SPECIAL EVENT: November 16th: Jeff was invited to speak at an assembly of sixth, seventh and eighth graders at the Melvin Berman Hebrew Academy in Rockville, Maryland.  Jeff discussed how he became blind, how he lives as a blind person, and how he functions as a blind person.  Then Jeff played some guitar and sang the Shehecheyanu song with the students. In addition, Jeff played his guitar and sang with the sixth, seventh and eighth graders. A very inspiring time for all! Great job Jeff!
Congratulations Jeff and we all wish you great success!
Click Jeff's Biography  / Click Jeff's Finances 
Click for Brothers Project Main Page / Click for How Can I Donate?  / Seth's Message